3 Ways Signage Improves Customer Experience
January is a beautiful time to be in Arizona. Not only do we experience awesome weather, there are also so many fun outdoor events to attend while we get a break from the heat. Being a printing company, we get exposed to the inner workings of many of these events as a supplier of large-format graphics. We've compiled our thoughts to help you generate ideas for outdoor signage as well as indoor experience. Here are three thoughts for how to better brand your outdoor event or indoor customer experience:
Feature event branding in each speaker session and reception hall
We recently had the opportunity to work with AIGA Arizona and the 2017 Phoenix Design week. This conference is highly attended by creatives from agencies, corporations, and non-profits where they get the opportunity to connect and learn from one another. As the large-format sponsor, we collaborated with Phoenix design week to feature signage in the main conference hall and reception area. Because signage was placed in main areas and behind the speaker, any photography and social media posts had the event branding featured in it.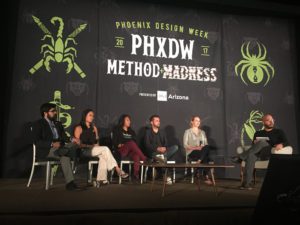 Provide Clear Directional Signage
Let's face it, when we attend an event it can be pretty overwhelming trying to figure out where to go, where to register, and how to get to your sessions. That's where directional signage comes in. With directional signage, it's important to balance creativity, messaging, and sizing. We like the example below for outdoor signage because they do all three of these things right. The simplicity of the design and color differentiation help these signs stand out so visitors know where to go.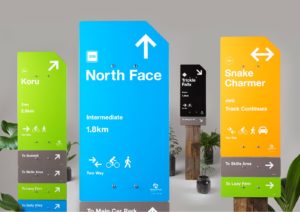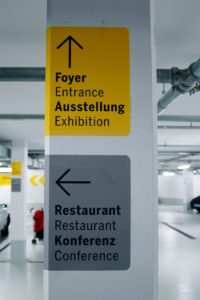 Drive Traffic with In-Store Signage
Store signage can make or break a customer's decision to check out your retail or service business. Catching the eye of a potential customer is the first step and this can be accomplished by branding window vinyl to attract the eye of passer-byers.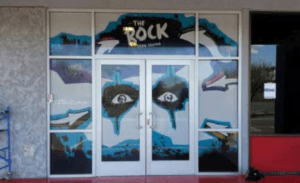 Here is an example of Alice Cooper's Solid Rock Teen Center. The creative on display here no doubt draws your eye into Alice Cooper's Teen Center.
Once a prospective buyer is inside of the building, what can you do to wow them with more graphics? Remember, you have the opportunity to print on unique substrates like acrylic, wood, and even fabricate interactive artwork for your store or office space. We've done some unique work with wallpaper that creates spaces inside of businesses for guests to stop and interact with the creative.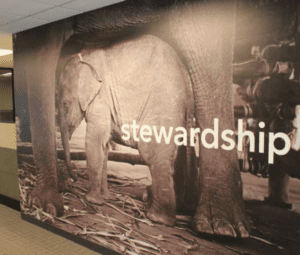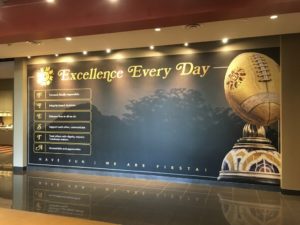 Feel free to connect with us if you have an event, conference, or business in Arizona that you need help with! We'd love to consult with you to help you develop the best signage materials that represent your brand.