6 Ways to Impress Your Clients With Quality Printing
It's a new year, which means it's time to remind your clients you are ready for their business! Aside from having a professional custom website, your business needs ready-to-go , quality printing materials.
As your Phoenix commercial printer, we are excited to work with you on creating quality printing materials that make your business stand out from your competition.
We've created a list of 6 ways you can stand out this year with your prints:
#1: Personalize your print materials
With our variable print methods, we have the ability to personalize your print materials to your clients. They will know you take their business seriously when they see their print item was made specifically for them.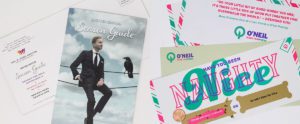 #2: Use unique imprint method
Skip the boring white paper with your letterhead and invest in brochures and booklets with your company's information. We have several techniques to take your print materials to the next level. Embossing, foil printing, and die cut are a few great ways to customize your materials! Learn more about them here!
#3: Avoid waste and create materials people want to keep
What makes a print item worth keeping? We are more likely to keep print materials when they are customized, informative, and reusable. Items such as booklets and folders provide more value than loose leaf items. Folders can also be reusable, which make them extra valuable to clients!
#4: Ensure your print material has a purpose
Nothing is worse than receiving a stack of papers that don't pertain to you. One option for creating content that has a purpose is to create brochures for each service you offer. Each brochure will have a specific topic and will be exactly what each of your clients are looking for depending on their needs.

#5: Write copy that targets your ideal audience
Tailor your print materials to your target audience in order to ensure you are reaching the people important to your business. The copy on your materials should be informative and provide value rather than be filler text. The goal of writing copy should solve a problem for your customers.
#6: Show off your company's creativity
Your print materials are an opportunity for your business to show off your professionalism and creativity. We love when businesses want their materials personalized with die cut or customized with their logo embossed.