A Guide to Creating an Instagram Worthy Selfie Wall
There are 2.7 billion active social media users around the world, which equates to about 36% of the population. The average time spent on social media is 2 hours and 22 minutes per day. Social sharing isn't slowing down any time soon and the need to incorporate interactive media into your organization's experience is crucial in today's competitive environment. One of the most popular trends in social sharing right now is the selfie wall.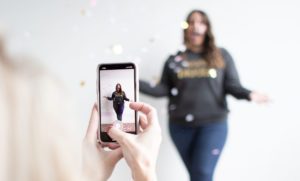 What is a selfie wall?
With the purpose of social publicity, a selfie wall is a designated area within your store, restaurant, or organization that is designed to be photographed and shared on social media. This is a growing trend and has been shown to be fun for both consumers and business to engage with.
Designing your own selfie wall can be an easy experience.
Create a beautiful background
Slapping your logo on a wall isn't going to cut it. Your design should reflect your brand but be fun. Make the design feel accidental and artsy. Get creative so people rave about your selfie wall, share your hashtag, and others ask about your guest's experience.
Choose an ideal location
Your selfie wall should be in an easily accessible location and possibly in an area where your guests or customers were already taking photos. Do you have a high traffic area? This might be an ideal location as well. The environment should be visible and easy to use but not create traffic jams. The best selfies also have excellent lighting, try to choose a location with natural light or good lighting.
Decide on the best material to create your wall
Wide format printing is your best option to create your company's selfie wall. After creating your background and choosing your location, it is time to choose the material that would be best for both. You have the ability to choose between acrylic, vinyl, and canvas. Here are the benefits of each:
Acrylic – For a smooth, vibrant wide format display, you'll want to go with an acrylic finish. This technique is best for outdoor usage and trade show materials.
Vinyl – Vinyl can be easily replaced and changed out to a new wall design, however it is very durable. It is now easier than ever to get a high-quality finish on your vinyl selfie wall.
Canvas – Canvas printing is usually used for indoor displays and wall art. If you want a large photograph or an authentic oil-type look for your wall, canvas printing is the way to go. This is also a great option for a mobile selfie wall to take to events.
O'Neil Printing offers wide format printing options for your selfie wall. Contact us to discuss design, location, and the material that would be best to create your selfie wall and start increasing your social sharing.