Annual Report Printing: Tell a story through a unique annual report
An annual report is a record which displays your company's activity throughout the year. While this may seem like a dreaded design and print task, using a sleek design and uniquely printed annual report gives you the opportunity to attract investors and display your professionalism to current investors or employees. This print piece is also a great brand-building opportunity!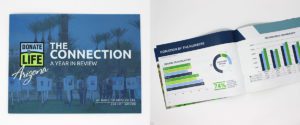 Whether you have an established company or you are just starting out, your annual report is an important opportunity to highlight your visions and objectives with investors and employees. Using your company's unique branding, we can create an eye catching annual report that tells your company's story from the past year and your goals for the upcoming year.
Here are some questions to guide your annual report planning:
What story do we want to tell?
Do we have data to reflect the story?
Did we grow? Transform? Confront challenges?
How have our goals evolved over the past year?
What can readers take away by reading our story from the past year?

Your story should be clear
Make your data and fiscal performance visual through charts, graphs, and infographics. Infographics are easy to understand and will draw your readers closer to the data. Include professional photography of the goals you have accomplished, aspirations for the following year, your office, and your employees. Do not include too much information to make your report look cluttered. Make it easy for your readers to pick out important information. Simplicity is key for a sleek annual report! As always, stay true to your brand while telling the story!
Customize your annual report printing
At O'Neil printing we will collaborate with you to translate your content and branding into a professional and uniquely printed annual report. Impress your readers with these custom print options:
– Choose a paper that adds life to your story and fits your brand
– Add gold, silver, or bronze foil stamping on the cover
– Use embossing or debossing to add a tactile element
– Die-cut words on the cover or throughout the report
We would like to work with you to create an elegant annual report that tells your story and represents your brand. Contact O'Neil Printing to discuss more printing options!