Holiday Gift Packaging and Cards
It's beginning to look a lot like…holiday craziness! The moment Halloween was over, stores began to fill their shelves with all things Christmas.
We can't say we mind it. All the lights, holiday cards, and gifts are some of our favorite things. Last year, we worked with several companies to print their holiday cards, and we want to make sure your business is covered as well.
Holiday Cards
Sending out holidays cards reminds your clients how much you value them and their business with you. For extra special clients, gifts and packages are a great touch. This year, we're helping inspire your gift giving by showing you some ideas from past holidays!
We have worked with the Arizona State University library for the past couple years to print a new holiday card each year. We love seeing how unique they get over time, and we are proud to deliver the specialty finishes to their end product.
From the past two years, they have created holidays cards with die cut designs. Last year's design included foil printing and a unique tri-fold design.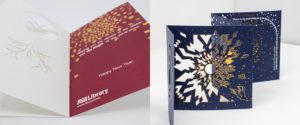 Gift Packaging
For more elaborate gift ideas, we are happy to work with you on gift packaging. Packaging can represent the holidays, your business brand, or any other ideas you have in mind.
Here are a few ideas for packaging your gifts to your clients: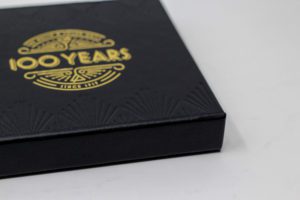 Pro tip: When designing cards or gift packages, consider the importance of personalization. Your business is likely not the only one sending out holiday cards, so we encourage our clients to invest in variable printing. Variable printing is a unique method of printing that allows businesses to customize each of the print materials they are sending out to create a personalized piece for the intended recipient.
Be sure to order your cards and gift packages soon! We'd love to chat with you about how we can create something unique that represents your company.