How Our Print Fulfillment Services Can Help Your Business
How often are you ordering print materials only to have them sit in your storage? If you can relate to this, you're not alone. It is fairly common for businesses to order batch quantities of print materials and forget about them not long after. Our solution to this problem can be described in one word: fulfillment.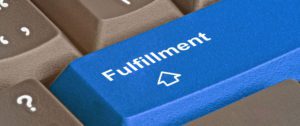 What is print fulfillment?
Instead of ordering 1,000 brochures for your business, we have designed a process that allows you to print 50, 200, or however many you need. We will print, store, and ship your print materials whenever you need us to. No more storing your flyers or brochures only to let the dust settle on them. In a world with Amazon bringing you what you need through your phone, we want to help make your life just as simple.
We keep your materials in our warehouse, so you don't have to. The O'Neil fulfillment center is carefully organized and ready to distribute. We send thousands of pieces out monthly for our clients all around the world. When you place an order on our online portal, the order gets picked, packed, and shipped to your recipient. No extra work for you. To read more about our direct mail marketing, click here!
Does fulfillment cost me more?
Print fulfillment isn't designed to cost you more. It is actually the opposite. We want to save you money from spending thousands on large batch orders. Instead of ordering large quantities and having to put them in storage, we are giving you the ability to have on-demand printing.
Say good-bye to all the boxes of leftover print materials sitting in your storage closet. When you have to throw out old print materials that are out-of-date, it is like throwing away hundreds, maybe thousands, of dollars away. Fulfillment is created to save you time, money, and headache from printing and storing more than you need.
Have any questions about print fulfillment and how it will benefit your business, contact us here! We would love to create a solution for your business.
Our fulfillment warehouse: