Is Foil Printing a Trend?
As a commercial printer in a large metropolitan area, we find it crucial to offer premier services to businesses of all sizes. We enjoy working with start-up companies as well as large corporations. While their print needs may range in order size, we find that the desire for unique print finishes, such as foil printing, is the same for both.
In our blog, we have shared with you the basics behind embossing, debossing, die cut printing, and full bleed printing. These finishes are the details that make a large impact. If you have read our past blog posts, you may have read a bit about foil printing. We would like to dive in deeper into what exactly foil printing is and how it can be introduced into your print materials.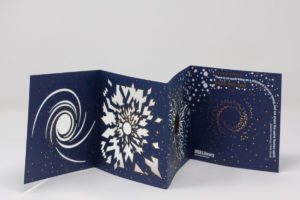 What is Foil Printing?
Foil printing is the process of adding foil or a metallic layer to your print materials in order to give them a shine or gloss. It can be done on the smallest details or it can cover more than half the print material. The foil adheres to the surface of the materials and leaves a smooth, silky finish on the item.
Where is Foil Printing used?
We have used this finish on a variety of materials and items. We commonly use it on business cards, post cards, invites, stationary, books, greeting cards, and pocket folders.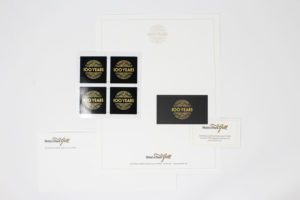 Is Foil Printing affordable?
Yes! We believe your print materials should make an impact on your customers. Adding print finishes to your items will not only make a lasting impression, but it will also be more enticing for your clients to keep the item later on. Any type of print finish is an add-on but it doesn't take long for you to see the value.
How do you design for foil printing?
Designing is the same whether you decide to add a finish or keep it simple with only digital printing. Once your graphic designer has finished creating your print designs, you will send them over to us and tell us what aspects of the design do you want to add the foil shine to. It's that simple!
Lastly, is Foil Printing a trend?
We are proud to say we've been in the print industry for over 100 years. That's a long time! We have watched as trends were introduced and passed every couple years. Foil printing started decades ago, and it is still prominent in today's print styles. We don't see foil printing going out of style for a long time, so there is nothing to fear with adding a little bit of shine to your items!
To chat more with us about your print needs, contact us here! We would love to discuss how we can add more value to your print materials!