Restaurant Menu Printing Ideas and Inspiration
In the restaurant industry, we understand the importance of branding and cohesive design. Guests walk into an establishment and can either get a great impression or feel underwhelmed. The aesthetic and ambiance of a restaurant matters when reviews are so common now. With the internet being accessible at all times, many patrons will look at reviews before going to eat somewhere for the first time.
When it comes to your restaurant's brand, it doesn't stop having influence once a guest steps in the door. Your marketing efforts must continue through your menu design. Menus are the guide to your restaurant and how you present yourself is very important. A high quality, well-designed menu is essential to your business, as it has the ability to drive up your profits. When designing your menu, it is important to understand the psychology of building your menu architecture. For example, your most profitable and well-liked items should be highlighted with imagery or a border around the item.
At O'Neil Printing, we start by learning more about your restaurant and seeing what print needs you have. We then show you inspiration from our past work and walk you through the process of getting your menu printed. While we don't offer menu printing design services, our project managers take care of everything in between. Unsure of how many you need? We offer on-demand printing or bulk printing. Contact us today with any custom restaurant menu printing questions!
Restaurant Menu Printing Ideas


Lo-Lo's Chicken and Waffles: An example of a well-branded menu is this Lo-Lo's Chicken and Waffles menu. Through thoughtful image placement, smooth finishes, and intentional item highlighting, this menu stands out. Guests know exactly what type of food is being served and they can appreciate the branded experience. For these menus, we created rounded edges using our die cut machine and saddle-stitching to keep it together.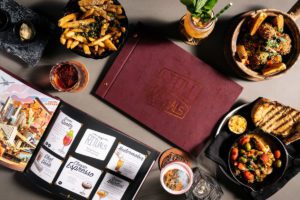 Little Rituals: The Little Rituals menu is a high-end menu design with case binding and gold foiling on the cover. Inside the menu, you find drinks hidden in "picture frame" squares. We created the frame illusion using our die cut machine and added gold foiling to give it a more luxury look. This menu is highly creative and leads guests to appreciate the intricacies and design, therefore willing to spend more on each item.
*Image Credit to Little Rituals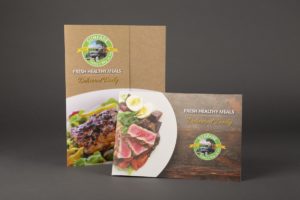 Sunfare Meal Delivery: For an establishment that focuses solely on to-go meal delivery orders, Sunfare needed a menu that was easy to hand out, while still maintaining brand standards. Their menus were printed on a smooth finish. We took care of folding the menus to ensure precision and consistency.
Contact O'Neil for Custom Menu Printing
From die cut designs to different binding techniques, our services range to fit your restaurant's needs. We appreciate the creativity of custom menu printing design. If you have any ideas, our team will do our best to exceed your expectations. With several different menu design inspirations to look at, our portfolio will speak for itself.
When you are ready to order, contact us here to get in touch with a project manager. We are here and ready to get you a quote. Whether you have designs ready to go or need recommendations for a great designer, we are happy to assist you. Call (602.258.7789) or email us for more information!