Soft Proofing for Print
Have you ever had something designed and loved the way it looked, but once it was printed, it looked completely different? We like to assume that the colors on the computer design are the same as what the ink and paper put out. This unfortunately is not always the case. In order to avoid any confusion about what the final product will look like, we recommend soft proofing.
What is soft proofing?
Soft proofing is the ability to simulate on your computer what the project will look like once printed. This process can be done through Photoshop. First step is to open the document and determine the profile (ink and printer type) the project will be printed on. Once the settings have been adjusted, you can edit the project's appearance to look the way you want it to after its printed!
To read more about how to adjust your settings, click here.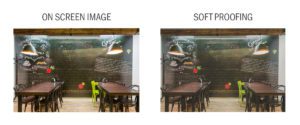 Why is this important?
Picture this: You go to the home improvement store to buy paint for your walls. You choose a gray that you think is the color you're going for. Once it's all over your walls, you realize you've accidentally chosen a gray with a hint of blue – now the whole house looks blue instead of gray.
This can happen with your print projects. On your screen, the colors appear to be a certain way, but once it's printed, it can look completely different that what you imagined. Your reds look maroon. The blues look purple. It's a mess! Soft proofing allows you to color correct before you spend money printing.
If soft proofing isn't something you can do at home, we are happy to provide physical proofs for you to look at before you order a large batch! Read more about why print proofs are crucial to every project!