The Importance of High-Quality Brand Print Materials
As digital marketing strategies have gained popularity over the years, branded print materials have taken a backseat in marketing campaigns. While we see the need for both digital and print marketing materials, one should not outweigh the other, especially since they both serve different needs and strategies.
Printed brand materials give customers a chance to rediscover your business more than once. When done well, they provide a tangible experience and are more likely to be held onto. Digital marketing may be more cost effective in some areas, but are less likely to be saved and found later by the customer. What is the likelihood that you go through your hundreds of emails to find that specific one that a company sent you?
Creating a thorough marketing plan for your business is crucial to reaching those who spend time online or those who need to be reached with a physical product. Both serve different purposes and should be used together in order to create a robust marketing plan to reach more individuals than if you chose one versus the other.
The goals of marketing are to generate more business, convey your brand, and showcase your product or service in the best possible light. As a business owner or manager, marketing allows you to create your own narrative. You simply need the right tools for the job to make it a success. In this blog, we share the importance of having high-quality brand print materials for your business and how we can help you create those materials that will 'wow' your customers.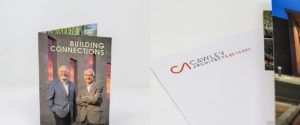 Why Brand Materials are so Important
Elevate your brand
A brand is the face of the company, which means that your brand must be cohesive and individualistic in order to make an impression. Print materials should match your digital materials and vice versa. When your brand materials are made of high-quality paper and have speciality finishes on them, your customers will gain trust in your business. It shows that you value their time and want only the best in their hands.
Allows for less distraction
Digital advertising tends to be more saturated and ignored by customers, due to the high density of online advertisements. Since printed brand materials are a physical item, they cannot simply be "swiped" or "scrolled past" in your customers' hands. Customers are more likely to take time reading your marketing materials and save them for a later date. Your advertisement won't be competing side-by-side with another ad.
More specific targeting
Using printed brand materials, you have the capabilities to directly reach your target audience. This includes past customers who have purchased from you, as well as potential customers in a target location. For example, hosting an event in a local area will bring local attendees. Reaching them through direct mail using their zip code is easy and can be done through your post office. As a result, they will have a physical document of your event that they can be reminded of.
Customer engagement
When your brand materials are captivating and interesting, they are much more likely to not only be kept, but also passed around. This creates more awareness around your business with one simple piece of marketing material. The key is to create a piece that is unique and worth keeping. Examples include: branded coasters, bookmarks, notepads, calendars.
Build trust with customers
An effective print marketing material will either lead to more business or build more trust with your customers. Ways to build trust with your print materials is to add personalization. Speaking directly to them gives you a better chance to reach them personally. Another way to build trust is to show you know your customers. This means researching where your ideal customer is spending time whether that be in a magazine or a direct mail flyer. We offer high quality postcard and leaflet printing in-house, so give us a ring (602.258.7789) or send us an email for more information!

How to Create Engagement in Branded Print Materials
If you are interested in making the investment in high-quality printing services, we have a few tips on making your materials more engaging:
Special promotions – Giving timely promotional offers away are a great way to incentivize new customers and spark interest in your business. You can do this with your marketing materials by placing a QR code on the print piece or by including a special code for a discount.
Give them next steps – Give your customers a place to go after they see your promotional material. It could be your website or your social media accounts. The goal is to create multiple channels to reach your customers.
Use a professional graphic designer – When your printed brand materials look and feel professional, your customer will be more enticed to work with you. Materials that do not look cohesive and intentional are less likely to be kept.
O'Neil's High-Quality Printing Services
Branded print materials are a large part of your marketing strategy, and we want to help you create the brand you are imagining. At O'Neil Printing, we offer specialty customizations to your branded print materials, and we have the capabilities to create print finishes that will truly impress your customers.
Our project managers can walk you through the many options we have for your print materials and will keep you informed through the entire process. To see some of our past work, check out our case studies! We would love to answer any questions you may have about creating unique and high-quality print materials.