To-Go Menu Printing Guide: 2020
Now, more than ever, to go menus are essential for restaurants and other food providers. Take out is the only option when it comes to getting food outside of your home, and will likely continue to become a trend as our situation unfolds. These times are unique, and businesses are having to get creative with how they reach their customers. 
At O'Neil, we see the importance of reaching your customers quickly and tactfully. We can rapidly deliver high-quality, personalized take-out menus for your restaurant or food service business. 
While self-printed menus may get the job done, they won't be as eye-catching as professionally designed and printed menus. Using quality paper and ink, take-out menus will stand out for customers to refer back to on a later day. 
>> Contact us to start your menu printing order <<
What should be included in a restaurant to go menu?
When it comes to restaurant to go menu printing, we believe you can never be too detail-oriented. Check, re-check, and then get a fresh set of eyes on it. Take-out menus are given to all of your customers, so it's important to print them without any typos or errors. That is why we send you a digital proof of the product before we print! Here are a few items to include on your menu:
1. Hours and how to order – With COVID-19, hours for many stores, restaurants, and offices are changed. Be sure to include your current hours, along with a good phone number to call for orders. If you have any web apps or websites for ordering, be sure to include those as well. 
2. Menu with pricing – Including your list of items with pricing will provide value for customers who would like to quickly order without having to call or pull up a website to view pricing. Pro tip: Leave off the $ when listing prices. Customers tend to choose dishes with lower numbers when they see a dollar sign. 
3. Special instructions for pick-up – Since we are all trying to do our best to practice safe distancing, include any special instructions for customers who are using pick up or delivery services. Describe the process in detail on your printed to go menu, and list any relevant phone numbers.
4. Partnerships with food delivery providers – If your business works with any of the mobile food delivery service providers, like UberEats or Doordash, include their logo or ordering information that indicates your partnership with each company. 
5. Any sales or promotions – Be sure to include any weekly specials or coupons on your printed menu to motivate customers to order from you again.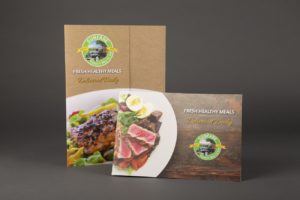 Digital printing with O'Neil
The process of getting your to go menus printed with us is simple. Whether you want a tri-fold, bi-fold, or single-page menu, we can make it happen. We are also proud to offer services of customization for your take-out menus, including die cut, foil printing, and embossing/debossing. 
1. Contact us to get started. Begin by getting into contact with one of our experienced sales representatives. We can provide you with a quote for your print project and give you ideas on different customizations you can make.

2. Send us your designs and we will let you know if it's ready for print or if we need to make modifications to ensure perfect alignment. If you want to understand this more, read our blog on bleed in print! Our uploading process is simple – you can either send them directly to a sales rep or use our Big Upload page for large files.

 – If you don't have a design, work with our in-house designers to create a menu design that stands out and matches your brand.

3. Wait for your proof! We will send you either a digital or paper proof of what your item will look like. Check colors, spelling, and cut lines, and give any feedback to our team.

4. Receive your printed to go menus. Once approved, we will send it off to our print team to bring your designs to life. From there, we can either ship your menus to you or we can send them directly to your customers.

Priority printing services for to go menu prints
We see the time-sensitive necessity of getting take-out menus in the hands of your customers, so we will work hard to prioritize your project and will work in a timely manner. Our sales reps are here and ready to answer any questions you have for us regarding project timelines, quotes, and to go menu printing processes. Our large facility can handle multiple projects at once, so there will be minimal wait times on your projects. 
If you have any questions or would like to get started on your menu printing project with O'Neil, please feel free to contact us. We would love to work with you!