Vinyl Printing: When and how to use it
Did you know print technology has become so advanced that you can print on almost anything? Depending on the purpose of your project and where you want to use it, we can bring your ideas to life with our state-of-the-art machinery.
In the past, we've shared with you some of our favorite techniques to make your print projects unique: die-cut, foiling, embossing, and etc. We also want to help you better understand what type of materials you can print on!
We will be doing a series of posts on different print materials with an explanation on when and how to use them.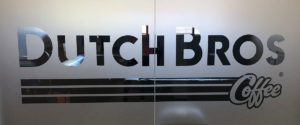 As the title of this blog post states, we will first begin with vinyl printing. The material is a synthetic plastic and very durable for projects. It is smooth in texture and serves a variety of purposes.
Vinyl is great for large print projects that require a more sturdy material. We typically create vinyl banners for schools, restaurants, sports teams, conferences, and more retail type businesses. These banners are great for sharing news or updates on special promotions or upcoming events.

We also use vinyl for wall, window, and floor decals. They serve as an easy, professional way to style your office or place of business. We can cut out your logo and install it on your wall or window, so you don't have to do any of the work. We simply ask that you measure the wall and give us the dimensions in order to accurately print the design.
Another use for vinyl is for a custom backdrop or selfie wall. Give your customers a fun, interactive backdrop for them to share on their social media (free advertising for you!).
Stay tuned for the next blog post when we explain another great print material and its uses!