Why Copywriting is Important in Your Print Materials

What is Copywriting?
Before we dive into why copywriting for print materials is important, we must first determine what copywriting is exactly. It is more than simply adding text to your website, social posts, or products; Copywriting is intentional writing that is created to drive your target audience to buy your product or service. All of the content your company puts out should carry weight and drive them closer to working with you.
When it comes to your print materials, the copy you have on them will matter greatly. Whether it is a brochure, postcard, or booklet, the content is meant to show off your expertise and represent your company as an industry leader. While it is crucial to have visually appealing materials, it is equally as important for the copy to make an impact on your audience as well.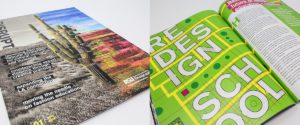 The goal with certain print materials, such as brochures and booklets, is to create value for your potential client. A couple ways to create value for your customers is:
– Give them information that helps them learn more about your business and your product or service.
– Answer some of your frequently asked questions to limit any barriers they may have for moving forward with your business.
Your Target Audience
Another important step is to tailor your copy to your target audience. It is more valuable to create copy that appeals directly to a certain group than it is to create generic copy for everyone. Write as if you were speaking directly to your ideal client and they will be more inclined to respond. Your target audience will likely be the ones who keep your information even after reading it once.
Your print materials to be valuable long after we print them. We advise our clients to hire graphic designers for their marketing materials (if they don't have one in-house) to ensure the end product will be visually captivating. We would advise the same for companies who don't have an in-house copywriter. The design is equally as important as the copy on the materials!