Are Your 2021 Trade Show Displays & Conference Materials Prepared?
This year has brought challenges and experiences that none of us could have planned for. Weddings, events, conferences, and festivals were postponed indefinitely. Officials couldn't quite give a date on when that all would be changing either. With the new year coming, we are beginning to ask ourselves what will events look like?
In the world of conferences and trade shows, more planning than usual must take place. There are factors such as safety protocols, room capacities, e-conferences, and distancing that we must take into consideration. It is unlikely that events will go back to what they used to be with handshakes, small breakout sessions, and post-conference happy hours. Until that day comes, we must be intentional with our plans to stay connected with one another and figure out new ways to gather.
Whether you are planning a conference or exhibiting, we have created this post to help prepare your business for what lies ahead. We suggest planning for your trade show displays, signage and print materials about 2-3 months in advance to ensure print and delivery times will be met before the event.
What will conferences look like in 2021?
Through the past 9 months, we have seen the event industry take a huge hit. A once booming industry is now almost non-existent due to the recent pandemic. Conferences and trade shows have gone into the virtual space, and companies are having to refocus their event budgets elsewhere. The question on all our minds is: will 2021 look the same?
It's difficult to say if the new year will bring back in-person conferences. A few things we will likely see are more virtual conferences, more social distancing, and less networking happy hours. In 2021, it is likely we will see more of an evolution to the virtual conferences, with updated technologies making it more accessible for attendees to participate. This year, many companies have created animated booths for their guests to explore the content at their own time.
If we do see more in-person conferences and trade shows, they will likely have less in attendance to make social distancing more possible. Events with catered food will have individually packaged foods and beverages. Trade show booths will have 6ft of distance between the booth and the attendee. These changes will be manageable with preparation and intentional event assets.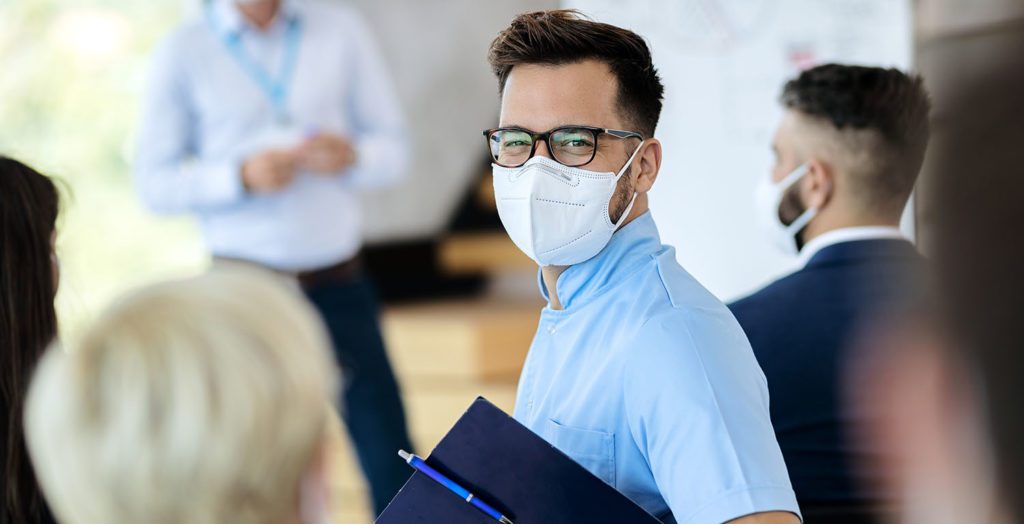 How to Be Prepared
Large Format Printing and Signage
Whether your event is taking place virtually or in-person, event signage will prove to be more important than ever. For event hosts, you will want to create visible signage for safety purposes and guidelines for guests: directional signage, masks required zones, social distancing areas, etc. Using our large format printer, we can brand the signage for your custom messaging. Another use of large format printing is for businesses attending events with a booth, for instances such as backdrops and banners. Signs must be larger than normal to account for the 6 ft of distance that guests must maintain from your booth. To ensure your content is visible from a distance, investing in new signage is a must.
Marketing Collateral
With the new year, we always suggest taking a look at your current marketing materials to make sure all the contact information is up-to-date. If your company went through any new hires or rebranding, it is important to get your custom marketing assets printed and ready for the new year. From business cards to brochures, we have an online marketing hub for you to quickly edit and order your updated materials online. They will be sent off to our print team and mailed or delivered directly to your door.
Event & Conference Collateral
If e-conferences are the route you plan on going for 2021, we have services to mail the conference and trade show packets to your attendees for you. Simply give us names and addresses and you can sit back and wait while the event information gets mailed directly to your guests. Inside the packets, you can include event itinerary, sponsor information, speaker notes, and notepads.
Packaging and Labeling
To go along with the item above, we can show you different samples of event content packaging and labeling for your conference. These details can look and feel however you would like it to. If sustainability is important to your company, we can work with you to find a great option. If you would like speciality print finishes on the front to really impress your attendees, we have countless ideas for you.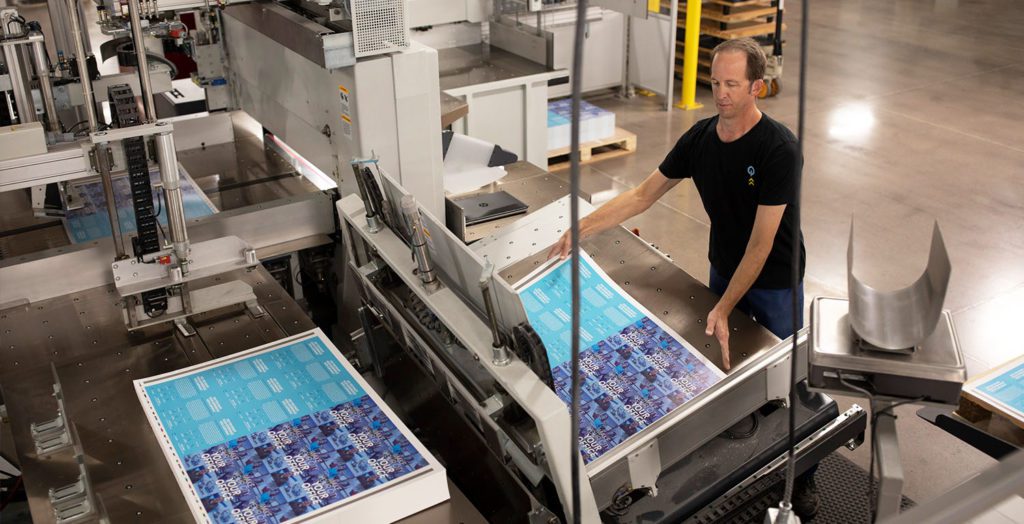 Your Trusted Printer
We understand how much uncertainty there is around events, conferences, and tradeshows. Our goal is to provide you with resources to help you plan an event that will still make an impact for your business. For 100 years, we have seen ups and downs in our economy, and we know that in strange times, we must make the most of what we have.
Whether you are planning for event signage or marketing collateral, we have the in-house capabilities to deliver materials that will impress your attendees. We have a quick turnaround time for most projects and would be happy to give you a quote for your conference materials and signage.
Our skilled team is ready to work with you on your next print project! Fill out the form here to get in contact with our business development team or give us a call directly at 602-258-7789.
Thank you and your whole team for bringing the book to life in such a STUNNING and beautiful final form. You have been fantastic partners and we are somehow even more excited than before about getting this out into the community. We appreciate your help in navigating supply chain shortages, last-minute changes, and most importantly building this gorgeous (from cover-to-cover) piece in a way that elevates our brand and honors the donors and grantees who trusted us to tell their stories.
After such a challenging year and a half, this is everything we imagined and wanted it to be. Our best yet!
Jennifer Foley, Director, Strategic Communications, Arizona Community Foundation
Learn More
O'Neil created a custom workflow to process our highly complex data driven direct mail and marketing programs. They learned our business and then partnered with our IT and marketing teams to create a seamless and highly efficient workflow. Our business has grown because this has allowed us to focus on what we do best while they do what they do best.
VP of Operations, Insurance Marketing
The O'Neil team acts as a virtual staff member for our company. They know us, our customers and our business. The most trusted of partners.
VP of Sales/ Operations, Leading Pharma Brand
We rely on the expert teams at O'Neil to help us support our sales enablement teams with the newest in storefront technology to manage all our marketing efforts.
VP of Marketing, Leading Medical Device Brand
O'Neil has helped us created a process to produce, manage and distribute all or our marketing materials from end to end. Everything from merchandise to print to banners, is located in a single storefront that allows us to streamline marketing and operations.
Marketing Director, Leading Aesthetics Brand
I've been dealing with printers for a long time. Very rarely do they come close to the consistent level of care that we encounter every time working with O'Neil.
Tuft & Needle
Learn more about Tuft & Needle
Working with O'Neil has simplified our marketing and collateral execution and planning. Working with their team makes projects move smoothly and without concern as the high quality work, amazing customer service, and efficiency keep us coming back for more. Thank you O'Neil!
Heidi's Village
Learn more about Heidi's Village
Thank you so very much for the beautiful book O'Neil Printing delivered, A Fly Rod With a Soul, to my client Per Brandin.
From the very beginning I felt your commitment to our project and was grateful for your attention to detail. I appreciated how your staff was always on top of any issue by answering questions and finding solutions.  It was a pleasure to work with such a kind-hearted group of people.  Thank you for leading that way.
Deborah Davis Design
I couldn't have been more thrilled with the service I got working with O'Neil. They were completely transparent and helpful throughout the entire printing process, and explained any nuances or questions that came up.
Adrian Mendez, Designer
Learn More About Adrian + Rule 29
We needed a printer who could assure a high-quality product and provide solutions to our questions when we wanted to try new printing methods. O'Neil does just that and more. They have become a trusted partner in our business.
Brian MacDonald, Wonderkind Studios
Learn More About Brian + Wonderkind Studios