O'Neil Direct
We understand the many challenges brands face to streamline operations, align all cross-functional teams and communicate efficiently and effectively. That's why we built O'Neil Direct. O'Neil Direct's cutting-edge technology connects your fragmented marketing, sales and operations within one platform and gives you the power to automate and control your brand anywhere, anytime.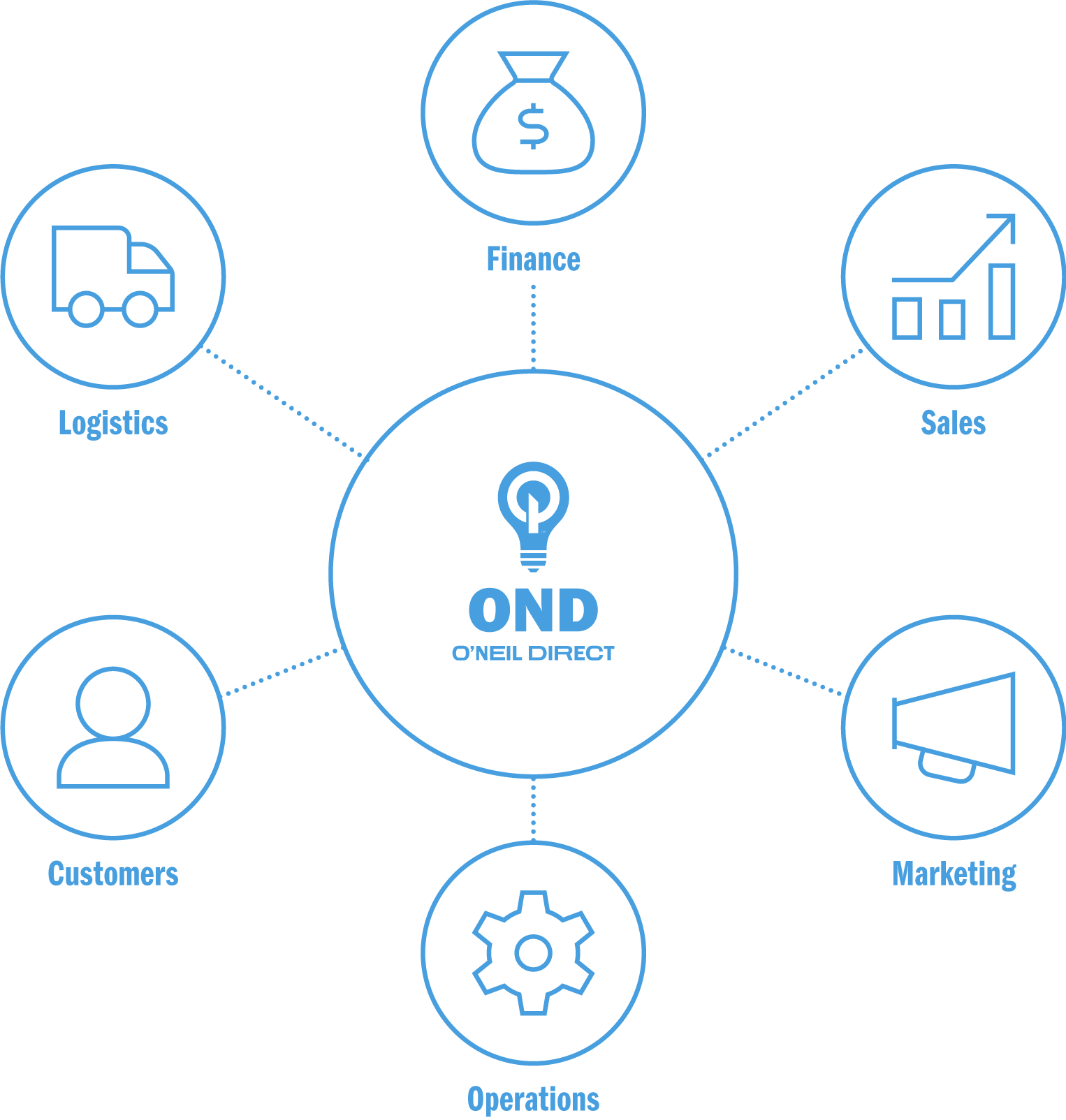 Using a customized, user-level managed interface, organizations are able to have greater control and ease when updating, creating, and ordering marketing collateral such as, brochures, welcome kits, banners, and much more. This intuitive platform gives flexibility to tailor approval processes, simplify billing, integrate with an existing CRM and control your budget.
Managing a business is tough enough—give your organization the gift of more time, less hassle, and an unrivaled experience with O'Neil Direct.
Innovate your business with O'Neil Direct:

Branded Online Storefront

Access Anywhere, Anytime, Across any Device

Technology & Automation All In One

Create Customizable Collateral

Reporting at Your Fingertips

Asset Management

Drive ROI
---
Request a Demo
"*" indicates required fields
Thank you and your whole team for bringing the book to life in such a STUNNING and beautiful final form. You have been fantastic partners and we are somehow even more excited than before about getting this out into the community. We appreciate your help in navigating supply chain shortages, last-minute changes, and most importantly building this gorgeous (from cover-to-cover) piece in a way that elevates our brand and honors the donors and grantees who trusted us to tell their stories.
After such a challenging year and a half, this is everything we imagined and wanted it to be. Our best yet!
Jennifer Foley, Director, Strategic Communications, Arizona Community Foundation
Learn More
O'Neil created a custom workflow to process our highly complex data driven direct mail and marketing programs. They learned our business and then partnered with our IT and marketing teams to create a seamless and highly efficient workflow. Our business has grown because this has allowed us to focus on what we do best while they do what they do best.
VP of Operations, Insurance Marketing
The O'Neil team acts as a virtual staff member for our company. They know us, our customers and our business. The most trusted of partners.
VP of Sales/ Operations, Leading Pharma Brand
We rely on the expert teams at O'Neil to help us support our sales enablement teams with the newest in storefront technology to manage all our marketing efforts.
VP of Marketing, Leading Medical Device Brand
O'Neil has helped us created a process to produce, manage and distribute all or our marketing materials from end to end. Everything from merchandise to print to banners, is located in a single storefront that allows us to streamline marketing and operations.
Marketing Director, Leading Aesthetics Brand
I've been dealing with printers for a long time. Very rarely do they come close to the consistent level of care that we encounter every time working with O'Neil.
Tuft & Needle
Learn more about Tuft & Needle
Working with O'Neil has simplified our marketing and collateral execution and planning. Working with their team makes projects move smoothly and without concern as the high quality work, amazing customer service, and efficiency keep us coming back for more. Thank you O'Neil!
Heidi's Village
Learn more about Heidi's Village
Thank you so very much for the beautiful book O'Neil Printing delivered, A Fly Rod With a Soul, to my client Per Brandin.
From the very beginning I felt your commitment to our project and was grateful for your attention to detail. I appreciated how your staff was always on top of any issue by answering questions and finding solutions.  It was a pleasure to work with such a kind-hearted group of people.  Thank you for leading that way.
Deborah Davis Design
I couldn't have been more thrilled with the service I got working with O'Neil. They were completely transparent and helpful throughout the entire printing process, and explained any nuances or questions that came up.
Adrian Mendez, Designer
Learn More About Adrian + Rule 29
We needed a printer who could assure a high-quality product and provide solutions to our questions when we wanted to try new printing methods. O'Neil does just that and more. They have become a trusted partner in our business.
Brian MacDonald, Wonderkind Studios
Learn More About Brian + Wonderkind Studios