How to Order Pages For Booklet Printing
There are many projects in print that are straightforward and easy to get started including, banners, flyers, and cards for example. These projects have little complexity to them once designed and proofed. Some projects, such as books, brochures, and booklets, however,  require a bit more thought and intention before hitting the printer. As you're preparing to print your booklet, you may be asking yourself "What paper is best for my printing needs? How do I order pages for booklet printing?" From your home computer, it may even become daunting to order the pages in the proper chronology—with one page out of place, or not placed on the correct side, your pages will become unorganized. 
In this blog, we guide you through the booklet printing and organizational process. Whether you are at home on your computer or working directly with one of our project managers, we will help you order your pages for booklet printing. 
Ready to launch or finalize your print project? Please contact us to get in touch with one of our sales representatives.We would be happy to help you determine what type of booklet you would like and the best textiles to ensure your project exceeds your expectations. 
Types of Booklets 
– Instructional Booklets: Instructional booklets are typically double-sided with thicker paper for repeat use and durability. They can be found with gloss covers, full color or black and white. Instructional booklet printing involves either spiral bound, perfect bound, or saddle stitch binding. When preparing to print, you'll need to order the pages chronologically and print on both sides. If you're using a commercial printer, it's critical that you order front and back pages appropriately.

– Manuals: Manuals are similar to instructional booklets, but are, in many cases more robust with pages. Gloss or matte covers in color, b/w pages, and use similar binding techniques as instructional booklets.

– Brochures: Brochures are great informational guides for brief content. We recommend gloss paper for durability and professional quality. Vivid color printing and accordion folds are common with brochures. Pages should be organized by number of folds. For a tri-fold, the front cover should be on the far right, and the back cover should be in the middle. No binding techniques are necessary with brochures.

– Newsletters: When it comes to newsletters, pages are saddle-stitched together, typically on less expensive paper depending on how often newsletters are sent. Full color is common on all pages.

– Portfolios: Showing off your company's portfolio should be engaging and fun. They should be enticing for potential clients to flip through it and have the opportunity to see your past work in a highlighted setting. We recommend gloss pages with full color. Binding techniques include wire-o binding, saddle stitch, perfect bound, or spiral bound.

– Reference Guides: Similar to instructional booklets and manuals, reference guides are focused on sharing information. Reference guides should have easy-to-find content with intentional organization to the pages. We recommend utilizing tabs and dividers for convenient searching and reading.

– Recipe Booklet: When it comes to sharing recipes, we recommend keeping pages clean and easy to read/skim. White space on pages with ingredients and instructions are helpful to readers. For many recipes with photographs, the left page is used for the image and the right side is used for the recipe, or vice versa.


How to Print a Booklet in the Right Order
For Instructional Booklets, Manuals, Newsletters, Portfolios, Reference Guides, and Recipe Booklets: At home, open your booklet in the original software, Adobe InDesign, or Microsoft Office. Open print settings and ensure 'booklet printing' and 'side-fold'  is selected. Turn on double-sided printing and make sure margins on each page are consistent. If your booklet pages aren't standard size (8.5 x 11) load the correct paper in your printer. Now, go and print!

– For picture instructions for Microsoft Office, visit: https://support.office.com/en-us/article/set-up-and-print-a-letter-sized-booklet-or-newsletter-c2f408d0-2f04-4d43-84ec-5b305b426aea
– If you are using InDesign, here are the instructions for setting up your booklet in the proper order: https://design.tutsplus.com/tutorials/how-to-make-a-booklet-in-indesign–cms-32599

For Brochures: Start with the document size of your brochure. If you are using a standard paper size to create a trifold brochure, you can start by creating a 3 column layout and setting your margins.

– For InDesign, here is a series of videos explaining how to get set up with margins, bleed settings, and page orientation: https://helpx.adobe.com/indesign/how-to/make-brochure.html
– If you are using Microsoft Office, you have the option to start with one of their templates to quickly get started on designing your brochure: https://templates.office.com/en-us/Brochures
Need Help? 
We are here to answer any questions you may have while designing your booklet. Our project managers are here to assist you with professional booklet printing and will make sure your booklets are printing in the correct format and order. We are also happy to send booklet samples for you to get a better idea of binding techniques and different types of paper. 
O'Neil's Booklet Printing Layout
To get started on your booklet printing project, we would first like to get you connected with one of our representatives. During our initial call, or introductory meeting, we will discuss project specs, order size, and our process. We will work with you to determine the best size for your booklet, binding technique, and type of paper most optimal for your print project. 
Booklet Design 
If you have designs, we will look over them to ensure pages are in order and the documents are set up properly with bleed and margins. Once designs are finalized, we will send you a proof either online or as a hard copy.
Color Process
We use the CMYK color process to ensure your colors match your vision and your brand. From there, you will either give the green light for us to run our print press to complete your order or we will continue with revisions. We want you to be 100% satisfied with your print project, so we will work with you to make any changes to the proof during this time. 
Binding & Project Completion 
The binding technique you decide for your booklet will be based upon what type of booklet you are creating. For lengthy booklets, we recommend perfect bound or wire-o/spiral bound. For shorter booklets, a simple saddle-stitch with staples would be a great choice. All of our binding methods ensure your pages will stay together upon distribution and, of course, when your reader takes possession. 
We would love to discuss your next booklet printing project with you today. Call our team at 602.258.7789 if you have any questions or concerns, or if you're ready to launch your print project.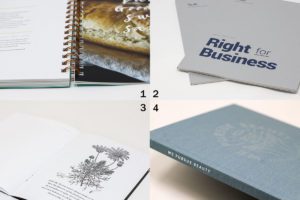 1. Wire-O Binding 2. Perfect Bound 3. Saddle-stitch binding 4. Case bound
Contact O'Neil for Custom Order Booklet Printing
Booklet printing doesn't have to be an overwhelming process. We are here to simplify it for you and help you create the best possible product. Whether you decide to work with us or print your booklet from your home, we recommend using templates or following the tutorials listed above. Keeping your page numbers in order and setting up your document properly will lead you to a successful project. If you prefer to not worry about your print project at all, give us a call or send us a message! O'Neil Printing has been in the booklet printing industry for over 100 years, and we have plenty of samples from REAL clients to show you. Take a look at our past work before giving us a call. Here you'll see several different booklet designs and binding techniques to spark your inspiration.