Menu Covers to Create an Experience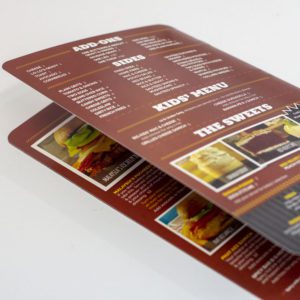 Have you ever been to a restaurant where they handed you a crinkled, damaged menu? You sit there staring at the host, wondering how to politely ask for a different one – or your other option would be to simply take the menu and barely touch it with your fingertips.
We've all been there. While some restaurants (typically the ones with better reviews) care what their presentation looks like, others couldn't care less.
Nowadays, people go out to eat, not only for the food, but also for the experience of dining. We choose places that spark conversation and put us in a good mood.
Creating an ambiance starts before your guests walk through the door and ends as they exit. It's an art. More and more restaurants are posting photos on their social media of their food and their atmosphere in order to create the experience early on.
Once guests walk through the door, they already have a general idea of what they're walking into. In order to continue a positive experience for your customer, they must be engaged all the way through the moment they take their seats.
The menu you hand them will either continue their good mood or it will cause them to pause. Let's talk about how we can avoid the pause!
They say Never judge a book by its cover, but I can assure you – everyone does. Your menu is your 'book' and how you present it is absolutely crucial.
Is your menu lengthy or short? Does it tell a story or create more confusion? What ways does your menu proudly represent your brand and business?
When we work with businesses in the hospitality industry, we first work on learning who their customer is. Does their customers crave an experience or convenience? Are they there for a certain item the business is known for, or do they want to look through the entire menu?
Create an Experience
When your customers come for your food, drinks, and experience, it is important to create a menu cover that intrigues them. We recommend one of the following for your cover: bonded leather, hardcover, wood, laminate, or cloth depending on what fits your brand.

Bonded Leather – Perfect for high end restaurants or hotels. We can emboss your logo on top to create more brand awareness.
Wood – Perfect for any type of restaurant, cocktail lounge, hotel, or spa. Wood covers can be dressed up or dressed down depending on the location, but they are always full of class.
Hardcover – If your goal is for your menu to tell a story, hardcover is perfect for you. This is ideal for golf clubs, resorts, high end restaurants, and spas.
Laminate – For restaurants who want to create a more relaxed, family friend environment, laminate menu covers are ideal. They are easy to clean, hard to damage, and still stylish and classic.
If you have any questions regarding our menu printing services, we would be happy to get you in touch with one of our specialists.