Print Fulfillment Services: Precision and Accuracy Are Key
For a large part of O'Neil's 100+ year history as a print communications company, the core capability of the organization was to help other organizations create high quality print projects. As time progresses and technology advances, there are obvious solutions that O'Neil has on-boarded such as digital printing which enable clients to try new things with O'Neil. An interesting, fast growing solution that O'Neil has pursued over the last few years is to manage the fulfillment of not only printed items but physical products as well.
O'Neil's fulfillment center looks like what you'd expect – aisles of items carefully placed, organized, and ready to be distributed. Thousands of packages are sent to clients and recipients all over the world on a monthly basis. For example, a medical device client of ours has their own medical device community of users spread across the United States and abroad. We'll keep marketing materials in our fulfillment center including print and branded products like scrubs, blankets, and wall decals. When somebody places an order on their O'Neil developed online portal, the order gets picked, packed, and shipped to the recipient. The beauty behind a solution such as this is that it reduces the amount of stuff that you accumulate in your office and try to find a place to store.
A huge pain point that we have discovered for many organizations is that they place an order for large quantities of print materials or they have physical products that they are responsible for storing, but don't necessarily use every bit of what they ordered right away. A fulfillment solution paired with an online portal allows you to place the orders you need, with the ability for anybody, no matter where they are located, to order the materials that they need. Issues of storage space and distance are solved by utilizing these print fulfillment services.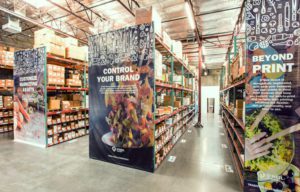 This year, a huge initiative undertaken by our client technical services team was to analyze ways in which the organization can effectively improve and scale our print fulfillment services. In order to maintain the highest level of efficiency and accuracy, we implemented a software solution called Veracore to ensure that our fulfillment operation moves with speed and accountability. Veracore allows O'Neil to manage inventory tracking with precision which will help maintain the organization of thousands of print items and physical products. We are very excited about scaling our fulfillment solution to meet the needs of new clients! Our suite of solutions that has evolved throughout the years is reflective of our desire to solve our client's business needs, so we look forward to solving the need to be a strong fulfillment provider for you.
To learn more about utilizing O'Neil's print fulfillment services, contact us!