The Difference Between Offset and Digital Printing Quality
When you start a print project, whether with a commercial printer or at home, it may not be at the top of your mind about how the job gets done. You have the document or the design, and you want to get it from Point A (in your computer) to Point B (in your hands). Does it matter how the job gets done? 
At O'Neil, how the print job gets done affects the quality, the price, and the efficiency of your project; especially when it comes to the difference between offset and digital printing. It is important to us and our clients that we find the best solution for their print needs, in order to save them money and time. While the differences between offset and digital printing may be common knowledge, we want to take the time to explain which is best for you. When you partner with us, our project managers are here to help with understanding your project and giving you the best recommendations. They have a skilled background in print, and they work with offset and digital prints everyday. Start your project by contacting us today.
In this blog, we will be distinguishing the difference between offset and digital printing quality, while helping you understand which you will use for your next project. We will also give examples of past projects and share which type of print press we used on which. 
First, Defining The Two 
Before we explain the difference between offset and digital printing quality, we want to first briefly explain what each type of printing is. They each have specific uses and processes, and the end products may look different for both. 
What is offset printing? 
Offset printing is a printing technique that first begins with an inked image, which is transferred from a metal plate to a rubber "blanket". The rubber blanket is then placed on the printing surface (such as: paper, foil, plastic, and synthetic materials). As a commercial printer, we operate on our newly installed Heidelberg Speedmaster CX 102 LE-UV 6-color offset press, equipped with in-line UV or Aqueous coating. This press is highly efficient and eliminates any need for downtime. Offset printing is ideal for large quantities of books, booklets, manuals, magazines, custom envelopes, and more. Learn more about offset printing formats, procedures, and cost by contacting us directly.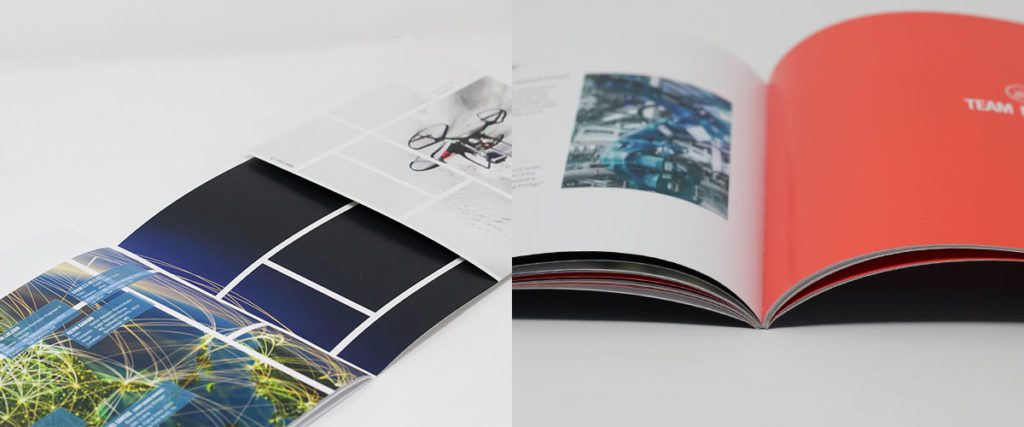 What is digital printing?
Digital printing can be in the form of laser or inkjet printers. This type of printing takes a digital image and prints it directly to the printing surface. Digital printing is ideal for short run projects, such as brochures, invitations, direct mail pieces, or greeting cards. This form of printing has a faster turnaround time and offers personalization of individual pieces.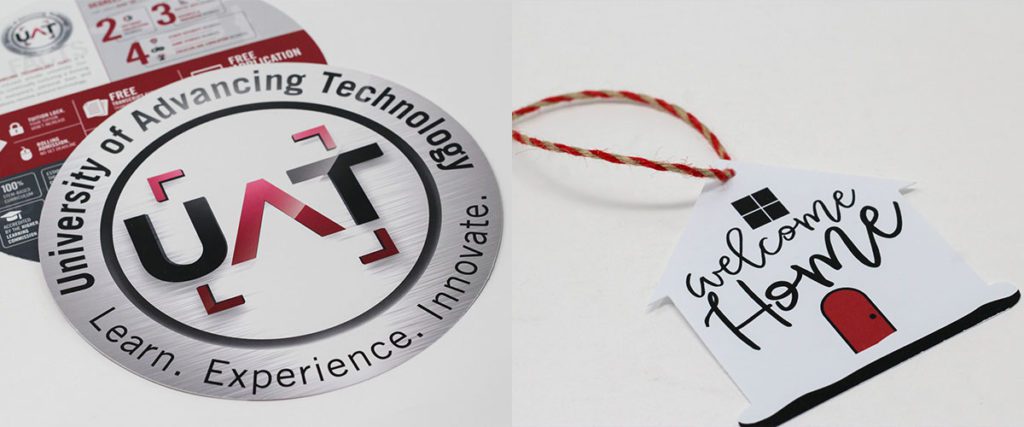 The Difference in Offset and Digital Printing Quality
While the difference between offset and digital printing quality used to be notable, print presses have come a long way! Offset printing was commonly known to produce better results, it no longer proves to be higher quality than digital printing. Instead, offset is the best route for cost effectiveness of large quantities. 
When we moved into our new facility last year, we also installed a new KM1 LE-UV 4-color press, which is the largest digital print press on the market. This press not only prints at the quality of offset printing, but it also offers the capability of personalizations. Since it is a large press, it also can print on unique shapes such as pocket folders, posters, brochures, and on different textures, such as foil, plastic, and synthetic papers. 
Now that quality is no longer a difference between offset and digital printing, what are the real differences? With offset, it is still more cost effective to go this route for large print quantities, especially for books and booklets. With digital printing, although it is not as cost effective, you have the ability to customize each piece with variable data printing and print on-demand with a faster turnaround. What it comes down to, at the end of the day, is cost, quantity, and what exactly you're looking for. Needs vary per industry, specifically for medical device companies, healthcare companies, restaurants, and nonprofits. Explore your industry and contact our PMs today to kick-start your project. 
Hire O'Neil: A Leader in Offset and Digital Printing
As we mentioned before, offset printing and digital printing have very little quality differences nowadays. At O'Neil, a leading commercial printer based in Phoenix, Arizona we have invested in equipment that will serve your business in the way it needs. Whether your next project will produce thousands of pieces or dozens, our team is happy to guide you through the process and explain what printing method will get you the best price and turnaround time. 
For the past 100 years, O'Neil Printing has prioritized getting the best equipment and always choosing to grow with technology. As your business grows, we do too. Contact us today to get started!