What are the Benefits of Custom Banner Printing?
The messaging to your customers is more important than ever right now. It is crucial to let your customers know whether you have updated hours, if your lobby is open or closed, whether you're accepting new clients, or if reservations are required. You get the idea. Custom banners are a great way to communicate with your clients, while maintaining brand standards and specific messaging.
At O'Neil Printing, we offer different customizations for banner printing, because our clients all offer very different services and have different needs. In this post, we discuss the unique customization options for your banner print needs, and how to get started with your custom banner order.
Our facility features a state of the art large format printer, which allows us to print in a multitude of sizes. Your banner doesn't have to be one size fits all! We offer different banner materials depending on indoor and outdoor usage. In addition, we offer different finishes for your banner to make it truly stand out. So, let's dive in!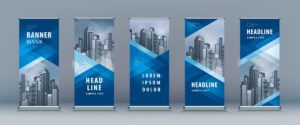 Custom Banner Printing
You have your message, now you just need to get it across to your customers! We can help with that. For temporary and permanent banners, we always suggest measuring the space first. There is nothing worse than printing too small of a banner or a banner that takes up too much space. Grab your tape measure and document the dimensions for your ideal banner.
While most people think banners are only hung from the ceiling or on the wall, we know there's many more options than that! Here are a couple banner options to look into if you haven't already decided: eyelet banners, retractable banners, flying banners, backdrop banners, X-stands, and many more!
For the design of your banner, you can work with one of our graphic designers or work with one of your own. To ensure your graphic is the correct size and file, you will work with one of our project managers who can answer all your questions. Our PMs will also work closely with you to determine what the banner will be used for in order to get the correct material for its location. If you have a specific material in mind, let us know and we will make sure we have it in stock!
Most of the banners we print will be made of a vinyl material, because it is the most versatile banner material. They are cost effective and reusable, which is great for temporary or semi-permanent uses. We also print on fabric as well as canvas. Both have a heavier feel and give a more high-end look. They would be ideal for more permanent messaging, such as menus or welcome signage.
As you can see, there are a multitude of customization options for your banner order. We may not be able to answer all of your custom banner printing questions in this blog post, but our project managers are always happy to work with you to get you the information and pricing you need. To get in touch with one of them, contact us here!

Online Banner Printing
In order to make your experience easy and hassle-free, we have a page for you to send us your file here. Oftentimes when you try to send over a large file over email, it could either take a while to upload or compress the email. This may lead to blurry text or graphics on your banner, so we do our best to avoid sending large files via email.
Once our team confirms your file is clear and ready for print, we take the project into our own hands. Our large format team works to ensure your designs have the clarity and quality you expect from us. Once complete, we send it directly to your door! For larger products, we happily set it up for you in its designated space.
Contact Us Today
Are you ready to get started on your large format banner printing? With over 100 years in the printing business, we have quite a bit of experience. This experience has allowed us to learn what qualities make your end product even better and one of those being customer service. When our team is informative and stays in touch throughout the whole process, we know we're doing our job!
We would love to work with you to create a custom quote for your next print project. Contact us here and we'll be in touch with you soon!