A Guide to Menu Printing
For many people, going out to a restaurant is a luxury experience. We get to be waited on, served, and cleaned up after. When one of those services doesn't go as expected, we tend to associate our time as bad experience.
Unfortunately, as restaurant owners and managers, you can't expect every guest who walks through your door to have a positive experience every time. There are too many variables, such as staff, weather, and customer emotions (maybe they were already having a bad day).
While you cannot control these variables, there are certain aspects of your restaurant that can sway your customers' experience. For example, music. When a restaurant plays the same soundtrack on a loop and the music is more a nuance than entertainment, that could drive guests from enjoying their meals and never returning.

Another example is your restaurant's aesthetic. It is important to keep a cohesive style and ambiance throughout your restaurant in order to make the experience memorable for guests. They will remember that your wall mural in the dining room matched the smaller pieces in the restrooms. They will notice how the napkins brought out a unique tie in to the tablecloths.
One more important aspect you can control for your guest experience is how well-made your menu is. Depending on the restaurant, a menu is the first thing guests will see and feel before they get their food.
The menu can either tell customers that your restaurant is laidback or more formal. You must consider your restaurants brand and aesthetic when choosing your menu design.
A fast food restaurant would not be wise if they chose leather bound menus. A five-star seafood restaurant would not choose a double-sided laminate menu. There isn't anything wrong with either of those menus but it is crucial to think about the customer who is visiting the restaurant and what they would like for their experience.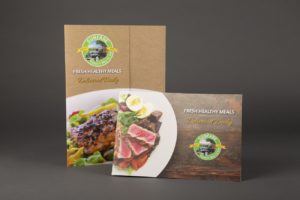 Menu Printing Tips
Starting with the menu cover, you have several different options for your menu cover. Examples include: bonded leather, wood, hardcover, laminate, and uv printed paper. We dive more into these on our menu cover blog post here!
When it comes to the content inside your menu, there are a couple of tips we have learned over the years. First, don't overwhelm your guests with too many options. Analysis paralysis happens at restaurants as well as with big life decisions!
Another tip is to make prices less of a direct point in the menu. When prices are listed in a column, it is easy for customers to scan for the lowest price and choose that. Adding the price to the end of the description is a great way to make it less of a bold statement.
Use photos of your food intentionally through your menu. We love seeing pictures of the delicious food you make at your restaurant while we print, but too many pictures make the menus feel cheap and overdone.

When creating the content and imagery on your menu, we always advise hiring a professional graphic designer. Designers understand the rules of print design in regards to coloring, branding, and image bleeds. We want to ensure your menu turns out exactly as you expected, so using a graphic design will help you achieve that goal.
Once content has been approved, we work with you to determine the type of materials you'd like to include in your menu. This is the time you decide the type of menu cover you'd like to use as well as the type of paper inside the menu. We have plenty of options for finishes but our most popular paper finishing technique is laminate or UV Coating.
When we finish choosing your cover, paper, and bound options, we are ready to print! You can expect to relax during this process. It's our turn to do the hard work!
For more information on menu printing, contact us here! We are happy to serve all hospitality businesses including restaurants, spas, hotels, golf clubs, and resorts.